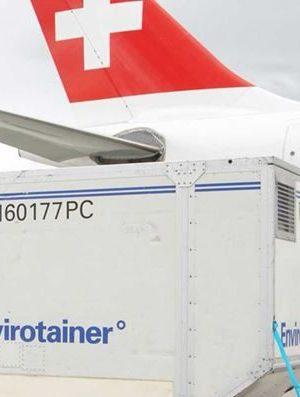 News
September 19, 2018
Novo Holdings acquires a 25% equity stake in Envirotainer
Novo Holdings A/S ("Novo Holdings"), the holding company of the Novo Group and fully owned subsidiary of the Novo Nordisk Foundation, has today agreed to acquire a 24.9% equity stake in Envirotainer ('the company') in partnership with the private equity firm Cinven, for an undisclosed consideration. Cinven announced the acquisition of Envirotainer in July 2018.
Envirotainer is a leading provider of temperature controlled airfreight solutions for the pharmaceutical supply chain. Headquartered in Stockholm, Envirotainer designs, manufactures and leases active temperature controlled containers used primarily for air freighting biopharma products, transporting up to two million doses of medicine per day. The Group serves c. 600 customers worldwide, including many of the blue-chip global biopharma companies operating from regional centres in Stockholm, Frankfurt, Dallas and Singapore, with a portfolio of more than 5,800 leased containers globally.
Novo Holdings has identified Envirotainer as an attractive investment opportunity due to, inter alia:
Market leadership: Envirotainer is a leading player with an innovative product offering, consistent service delivery, and global delivery capability;

Attractive market: the rise in biopharma sales for a broad range of clinical treatments, in combination with tightening regulatory requirements for transporting these products is driving strong growth in Envirotainer's markets;

Global growth opportunity: Cinven and Novo Holdings will support Envirotainer's global growth by developing its technology and expanding its container fleet and global service network.
Samir Kamal, Senior Director at Novo Holdings said:
_"_Envirotainer is a very attractive investment opportunity for Novo Holdings. The company is a leading player and is in an excellent position to further benefit from the increasingly important demand for temperature controlled biopharma logistics. We are excited about this investment and look forward to, together with the management team and Cinven, be part of further developing Envirotainer."
Michael Berg, CEO of Envirotainer, commented:
_"_We are pleased to welcome Novo Holdings as a partner alongside Cinven in Envirotainer, where we see great value from Novo Holdings healthcare expertise and pharmaceutical market knowledge to further develop the customer service offering of Envirotainer."
About Envirotainer
Envirotainer designs, manufactures and leases active temperature-controlled containers used primarily for air freighting biopharma products

Envirotainer has c. 300 employees and a portfolio of more than 5,800 leased containers globally

The company developed and marketed the first container with an active temperature control system in 1995 and since then has significantly invested in technology and its container fleet

On 12 July, 2018, private equity firm Cinven announced the acquisition of all shares in Envirotainer for an undisclosed sum

More information can be found at www.envirotainer.com
About Novo Holdings A/S
Novo Holdings is a Danish private limited liability company wholly owned by the Novo Nordisk Foundation

Novo Holdings is the holding company of the Novo Group, comprising Novo Nordisk A/S, Novozymes A/S and NNIT A/S, and is responsible for managing the Foundation's assets

In addition to being the major shareholder in the Novo Group companies, Novo Holdings provides seed and venture capital to development-stage companies, takes significant ownership positions in well-established companies within life science and manages a broad portfolio of financial assets

At the end of 2017, Novo Holdings fully or partly owned more than 80 life science companies; many of which are headquartered in the United States.

The vision of Novo Holdings is to be recognized as a world-leading life science investor with a focus on creating long-term value

Read more at www.novoholdings.dk
Further information
Novo Holdings: Christian Mostrup Scheel, Senior Press Officer, phone: +45 3067 4805,  cims@novo.dk