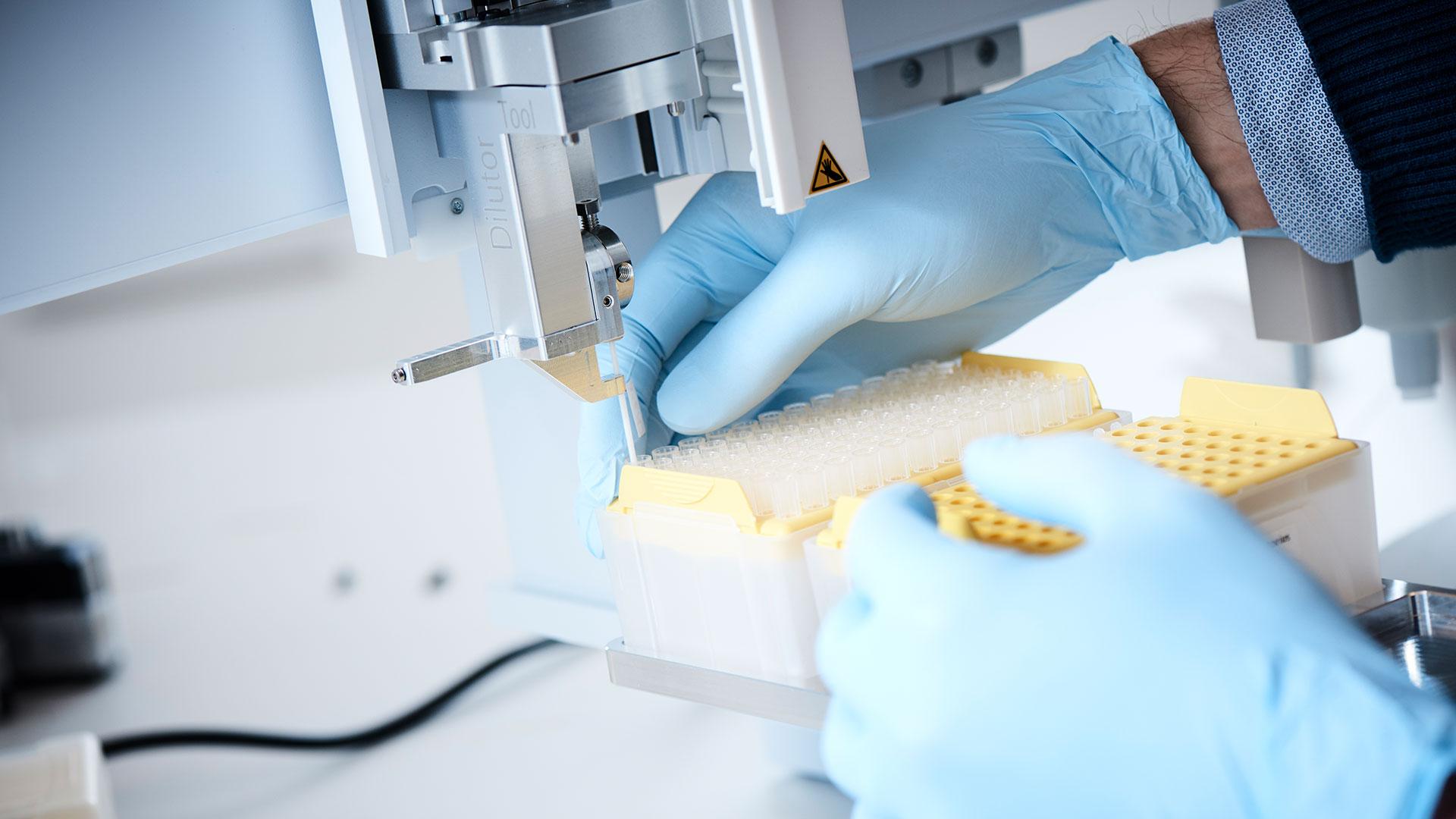 News
January 9, 2023
Novo Holdings invests in proteomics technology company, Evosep
COPENHAGEN, DENMARK — Novo Holdings, a leading international life science investor, today announced a $40m investment in Evosep, the bioscience company leading the standardisation of proteomics for clinical use.
The proceeds from the investment by Novo Holdings will be used to advance clinical applications of proteomics enabled by Evosep's standardised liquid chromatography platform. The new funds will also allow Evosep to further expand its presence globally, especially in the rapidly growing US market, providing more customers a solution for robust, high-throughput proteomics.
Evosep was founded in 2016 by proteomics technology pioneer Ole Vorm, together with several of Evosep's senior leaders, all of whom have a long history of working together in the field of liquid chromatography-mass spectrometry (LC-MS). The team established Evosep with the mission of improving quality of life and patient care by unlocking the power of LC-MS for drug discovery and innovating how protein-based clinical diagnostics are performed across panels with multiple protein biomarkers – a challenge with limited solutions. Existing high-throughput solutions tend to rely on single-protein assays.
Since 2016, the team has commercialised a best-in-class liquid chromatography platform for ease-of-use and robustness that has been very well received by both the scientific community and pharmaceutical industry with industry-leading customer satisfaction and results. Evosep has strong partnerships and equipment compatibility across mass-spectrometry vendors and equipment.
Evosep is the leading platform offering a high-sample-throughput capability with excellent reproducibility (i.e., valuable, useable data) between sample runs and across instruments and sites. Evosep's technology shapes the potential of proteomics by developing valuable applications, enabling widespread use, and the development of clinically meaningful protein-based diagnostics.
Stephen Van Helden, Principal, Novo Holdings, said:
"Evosep's technology can profoundly impact the diagnosis and treatment of diseases. Its platform addresses some of the most common technical pain points that have historically held back the widespread application of proteomics."
Given the investment, Stephen, who is based in San Francisco, will join Evosep's Board of Directors. Stephen added, "We are impressed with the Evosep team, the incredible culture of the company and the platform they've commercialized in such a short time. Novo Holdings is excited to be part of Evosep's continued growth as the company increases its momentum and global presence."
With a globally increasing recognition of precision medicine, in which medical interventions take the patient's genetics or protein data into account in diagnostics or treatment, Evosep's core nanoLC industry is estimated to grow rapidly in the coming 5 years. Additionally, clinical diagnostics represents a >$50b industry, and development of leading multi-biomarker assays here would yield material benefits for patients and significantly improve the treatment paths available.
Christian Ravnsborg, CEO, Evosep, said:
"We are delighted to have Novo Holdings A/S as a new shareholder in Evosep. Novo Holdings is a well-known and highly regarded long-term investor with significant expertise in working with innovative life sciences businesses to unlock their potential. The combined experience and investment will enable us to accelerate our already strong growth and further expand our platform towards bedside care proteomics, both independently and through our many vendor relationships."
Denmark's Export and Investment Fund is among the existing investors and has been investing in Evosep since 2016.
Tonni Bülow-Nielsen, Partner at Denmark's Export and Investment Fund, said:
"Evosep has already proven its potential to become among the global leaders in proteomics, and I have great faith in the team. The success of the company is a testimony to Denmark's unique position within health tech, and at Denmark's Export and Investment Fund we are pleased to continue the journey with Evosep in partnership with Novo Holdings. We are confident that Evosep, with their advanced technology, will create significant positive change in the healthcare sector."
About Novo Holdings A/S
Novo Holdings is a holding and investment company that is responsible for managing the assets of the Novo Nordisk Foundation, one of the world's largest enterprise foundations. The purpose of Novo Holdings is to improve people's health and the sustainability of society and the planet by generating attractive long-term returns on the assets of the Novo Nordisk Foundation
Wholly owned by the Novo Nordisk Foundation, Novo Holdings is the controlling shareholder of Novo Nordisk and Novozymes (the Novo Group companies) and manages an investment portfolio, with a long-term return perspective. Novo Holdings invests in life science companies of all stages of development and also manages a broad portfolio of equities, bonds, real estate and infrastructure assets as well as private equity investments.
As of year-end 2021, Novo Holdings had total assets of USD 106 billion. Further information: www.novoholdings.dk.
About the Novo Nordisk Foundation
Established in Denmark in 1924, the Novo Nordisk Foundation is an enterprise foundation with philanthropic objectives. The vision of the Foundation is to improve people's health and the sustainability of society and the planet. The Foundation's mission is to progress research and innovation in the prevention and treatment of cardiometabolic and infectious diseases as well as to advance knowledge and solutions to support a green transformation of society.
www.novonordiskfonden.dk/en.
About Evosep
Evosep aims to improve quality of life and patient care by radically innovating protein-based clinical diagnostics, initially through collaborations with world-leading scientists about developing new technologies and solutions to make sample separation 100 times more robust and 10 times faster than today's alternatives. Information about Evosep is available at www.evosep.com.
The Evosep One instrument is for Research Use Only (RUO).
Press inquiries
Marie-Louise Jersin, Senior Communications Partner, +45 3049 4957, maj@novo.dk